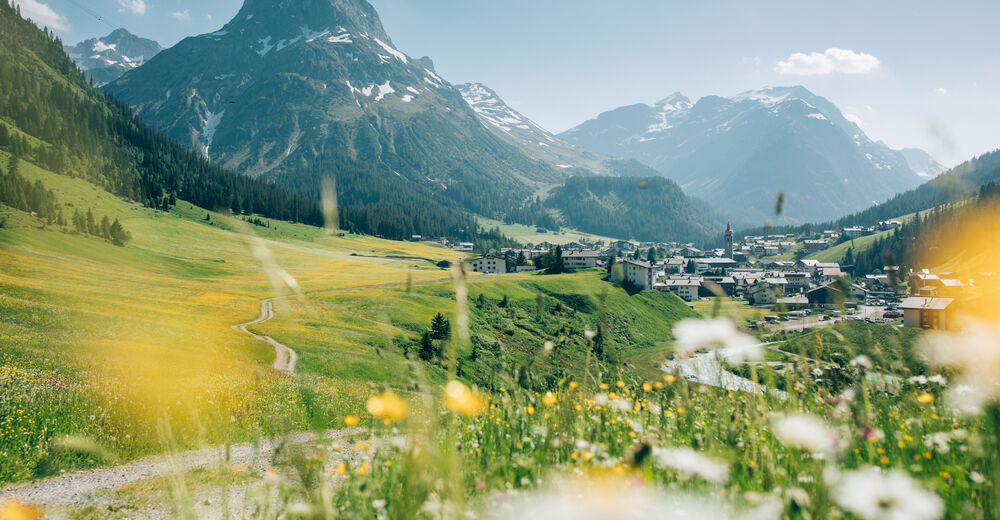 MOUNTAIN SUMMER IN LECH ZÜRS AM ARLBERG
Whether in winter or summer, Lech Zürs am Arlberg simply offers its guests more than other holiday destinations. Golfer, hikers, runners, classic car enthusiasts and music lovers all feel at home here, as the region has everything they could wish for. As well as great events, it offers magnificent hiking trails to alpine pastures and huts, idyllic views and wonderful mountain experiences. So many mountains. So much space and time. And visitors really appreciate it.
Lech Zürs am Arlberg has striven tirelessly to raise its guests' awareness of the attractions that it has to offer in the summer as well as the winter, and now its endeavours are bearing fruit. Lech Zürs impresses its visitors with its magnificent scenery and inspiring history, and although it is a modern village, it has also retained its original character and charm. This is why it was awarded the accolade, "most beautiful village in Europe".
The region also boasts a whole range of enticing special features: Lech Zürs is home to the largest alpine ibex colony in Europe, as well as more than 20 different types of orchid. There is also a 200 million-year-old fossilised lake, with everything that you might find in deep-sea waters, such as corals, mussels and fossils. The "Green Ring" entices you to discover the mythical mountain world; the Lechweg Trail takes you along the Lech river all the way from its source, so you can watch it transform into a wild romantic riverscape; and the Tannberg Trail enables you to follow in the footsteps of the Walser people. The Arlberg Trail connects all five Arlberg resorts of Lech, Zürs, Stuben, St. Christoph and St. Anton. The route encompasses 40 km of hiking trails amidst spectacular alpine scenery and is divided into three stages, accompanied by convenient cable car assistance. A separate Arlberg Trail Ticket and special services such as luggage transport round off this unique mountain experience.
Its infrastructure is ideally suited to its visitors' needs, with accommodation ranging from family B&Bs to premium hotels. And it offers its guests an attractive and wide-ranging programme of events, which reflects its outstanding creativity and wealth of ideas.
LECH CARD – ONE CARD, NUMEROUS ADVENTURES
In order to explore the extensive Lech and Zürs hiking area, holidaymakers often use the blue local and hiking bus. This is free-of-charge for all guests who spend at least one night in the region. Those who want to go somewhat further and, for example, take a bus to the Formarinsee or Spullersee lakes - both of which are starting points for numerous hiking possibilities - can obtain a Lech Card directly from their landlord. With its wide range of benefits, the card is mainly designed for hikers and families. The card is free of charge for children up to the age of 14. It includes, for example, use of all the cable cars open in the summer, the journey to and fee for entry into the popular Zugertal valley destination, admission to the forest swimming pool, admission to all the museums in Lech, a wealth of guided walks, an attractive children's adventure programme, discounts on selected summer events as well as discounts on everything from Lech Card partners.
---
---
Contact Lech - Zürs am Arlberg
Lech Zürs Tourismus GmbH
Dorf 2, A-6764 Lech am Arlberg
Telefon

FAX

Pagina de acasă
E-Mail
Cerere şi Comandă prospect Cazări
Trasee montane Activităţi estivale
Cazări Lech - Zürs am Arlberg
220 Hoteluri, Locuinţe de vacanţă...
Furnizor de sport Lech - Zürs am Arlberg
Oferte şi Pauşale Lech - Zürs am Arlberg
Camere web
Cele mai populare regiuni