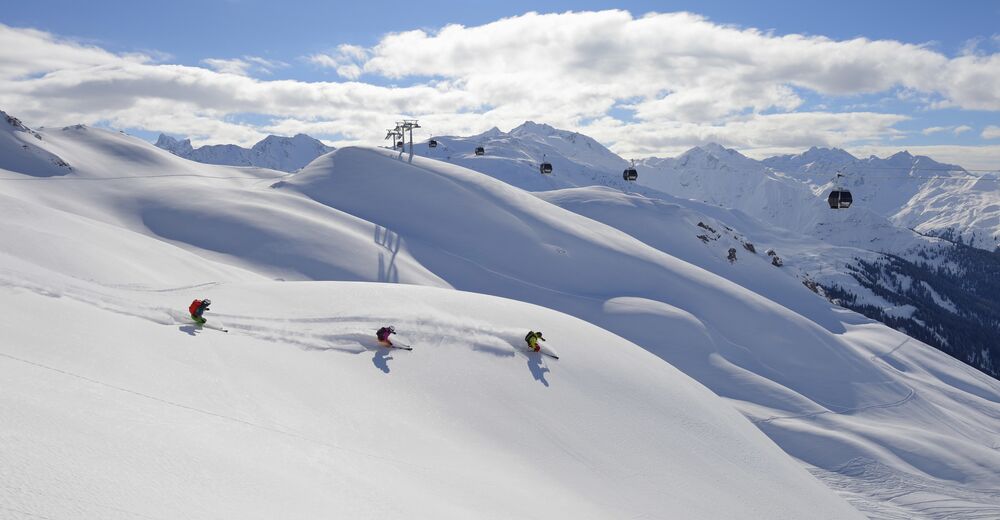 Tradition & Zeitgeist in Harmony
Lech Zürs am Arlberg – "Whilst our traditional Walser village hasn't sacrificed any of its original character, guests visiting Lech Zürs am Arlberg, will find everything the modern world has to offer," Tourism Director Hermann Fercher describes the interplay of genuine tradition and progressive hospitality in the Arlberg community located at 1,450 metres above sea level. Last summer, over 36,250 guests (with 136,844 overnight stays) heeded the call of the village which has made a name for itself worldwide as a winter sports paradise.
According to the motto "more space for thoughts and more time for the senses", Lech Zürs am Arlberg, which was voted "most beautiful village in Europe" in 2004, invites guests every year to discover the secrets beneath the snow. The locals enjoy the time during the comparatively calm summer and replenish their energy reserves in their natural surroundings, which offer much more to discover than one might think: Europe's biggest colony of ibex, for example, with around 600 animals, lives in Lech Zürs am Arlberg. Botanists delight in the rare herbs and the variety of blossoms, offering 20 different types of orchids alone. The municipality is embedded in a 200 million year old stone sea with corals, sea shells and other fossils and the gypsum holes in Oberlech, with approx. 1,000 sinkholes, are among Europe's most extraordinary geological features. A good 200 hospitality businesses – from comfortable apartments to top hotels – are available to guests in the summer too, allowing them to get to know the greener side of the glamorous winter sports location.
Local tourism professionals continuously endeavour to expand the summer offerings. Already in the years before, two additional summer projects of a very special kind were realized. Firstly, the "Grüner Ring" hiking route was opened as the summer equivalent to the white winter version. The Erlebnisregion Tannberg was also launched, which extends beyond Lech to include the regions of Warth and Schröcken. Both projects are based on traditional legends, and unite hiking and literature. In addition, over 350 kilometres of sign posted hiking trails are available to guests in the municipality in the summer.
Using the Lech Trail as an example, with the initiative of the European Rambler's Association (ERA), a European quality seal for hiking trails and the corresponding testing procedure are to be developed in order to establish transnational, shared and transparent quality criteria for hiking trails. The aim is a uniform, easy to use certification system for the whole of Europe to ensure that the hiking is as enjoyable as it possibly can be. Hiking experts from Denmark, Germany, France, Luxemburg, Austria and the Czech Republic selected the transnational Lech Trail (120 kilometres expanding from Lech municipality via the national park region Lechtal-Reutte to Lechfall in Füssen) as a model project from among a large number of potential candidates. The certified hiking trail through the Alps, which is also suitable for hikers of moderate skill, represents an interesting addition to the
product portfolio of the European hiking market.
A special feature that has been part of relaxing holidays in the summer in Lech Zürs am Arlberg and the surrounding area for many years is the Lech Card, which all guests can use for their leisure activities from their first overnight stay free-of-charge and as often as they like. It includes, amongst other things, use of all running cable cars and chair lifts, the local and hiking buses, selected guided hikes, the daily fee for the Golf Academy Lech, the heated forest pool, the "kids active" children's programme and much more.
Hermann Fercher explains what makes Lech Zürs am Arlberg so special as follows: "In many people's minds, winter sports towns are empty villages with bare slopes, reminiscent of ghost towns, in the summer - Lech am Arlberg is different. Here, we have a winter and a summer season, run by locals for whom the community is also their living space. The lift companies invest millions of euros each year in environmentally-friendly cutting and high-altitude planting, and it is precisely this sustainable way of working and living that makes Lech am Arlberg so exceptionally pristine and beautiful at all altitudes in the summer."
---
---
Contact Arlberg
Lech Zürs Tourismus GmbH
Dorf 2, A-6764 Lech am Arlberg
Telefon

FAX

Pagina de acasă
E-Mail
Cerere şi Comandă prospect Cazări
Regiuni Lech Zürs & Stuben am Arlberg
Trasee montane Activităţi estivale
Cazări Arlberg
310 Hoteluri, Locuinţe de vacanţă...
Furnizor de sport Arlberg
Oferte şi Pauşale Arlberg
Evenimente
08.12. - 10.12. zilnic

15.12. - 17.12. zilnic

24.12.
Camere web
Cele mai populare regiuni