Small wild rivers which have cut their way under 15 two-thousand-metre-high mountains and under some of the mightiest mountain walls through the Loška Koritnica, feed the Soča River.
The Alpine village, which is among the most attractive settlements in the Triglav National Park, is the starting point for discovering them.
From there paths lead to the valley of hundreds of waterfalls and to the botanic treasures of Mangrt.
The highest Slovenian mountain road, which attracts cyclists, also winds its way to Mangrt Saddle from here.
Quelle: www.slovenia.info/en/-ctg-kraji/Log-pod-Mangrtom-.htm?_ctg_kraji=2770&lng=2&redirected=1
---
Metode pentru petrecerea timpului liber Log pod Mangartom
---
Contact Log pod Mangartom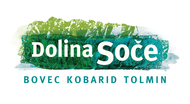 Info Zentrum Bovec
Trg golobarskih žrtev 22, SI-5230 Bovec
Telefon

Pagina de acasă
E-Mail