Cazări
Hotel Waidringer Hof
- Waidring
Hotel Waidringer Hof
6384 Waidring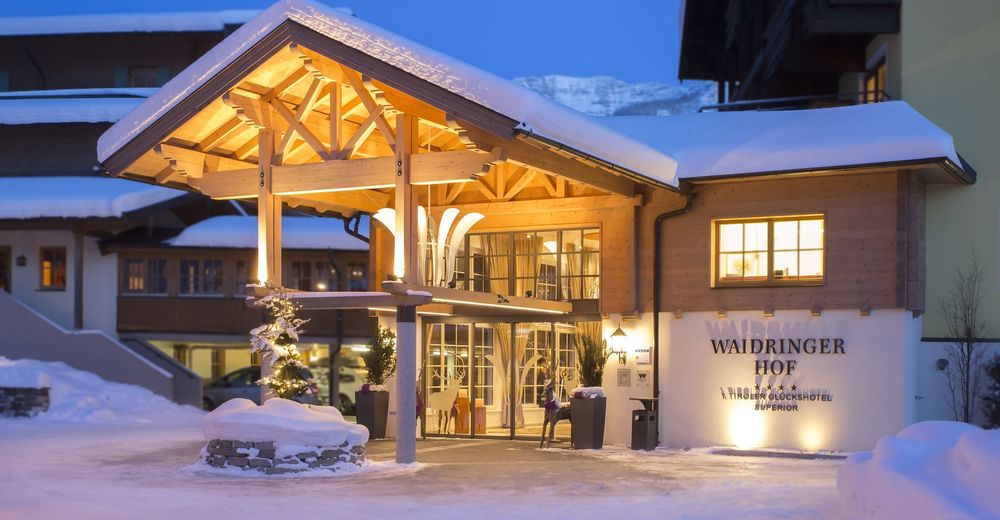 © fotograf andreas schatzl - andreas schatzl
© fotograf andreas schatzl - andreas schatzl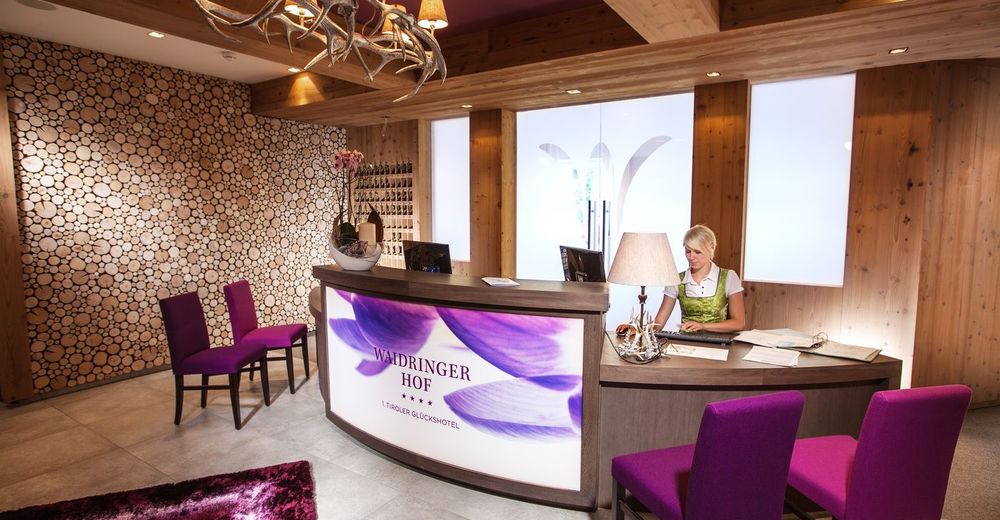 © fotograf andreas schatzl - andreas schatzl
Welcome to the Hotel Waidringer Hof **** superior - the 1st Tyrolean happiness hotel!
REASONS FOR A SKI HOLIDAY IN THE LUCKY HOTEL *
You don't need a car at the holiday destination - the gondola is easily accessible on foot, and your ski equipment can
can be stored in the hotel's own ski boxes at the valley station or directly in the hotel ski crystal.
With the Schneewinkel ski pass you are spoiled for choice - 10 ski areas are waiting to be discovered.
In the Steinplatte ski area, our rustic Stallenalm ski hut invites you to a culinary stop.
As a Waidringer Hof guest, you can get preferential rates at the ski rental and at the ski school.
The first impression of the Waidringer Hof is cozy, familiar, generous. A hotel that has grown over three generations and has always been the first house on the square and that inspires its guests under the motto "the happiness of guests is the center of our actions". At a second glance, the viewer becomes aware of beautiful, coherent, creative details. All in all, this is a hotel in a traditional, rustic, elegant style. From freshly renovated, modern double rooms "Glücks.pilz" in the main building to the popular "Glücks.feuch" rooms with fine Swiss pine furniture and spacious suites, there is something for every taste.
From a culinary point of view, we also set the quality bar very high: in the good "Alten Stubn' "you start the day with a comprehensive breakfast buffet. In the afternoon, homemade cakes tempt you and in the evening our chef will enchant you with his creations in 4-course menus. And of course we have our own children's menu for the little ones.
Would you like a hut evening? On the Stallenalm belonging to the Waidringer Hof in the middle of the hiking or skiing area of ​​the Steinplatte, it is hearty, but all the more tasty. Ribs, roasts and Kasnocken are at the top of the menu.
Pleasure means physical well-being in many ways: recharge your batteries in our indoor and steam bath, sauna village and the Ruhealm with relaxation rooms, treatment rooms for massage and cosmetics, natural bathing pond and much more.
We are looking forward to your visit!
Your team from the Waidringer Hof
Videos
Inclusive services for a carefree vacation
For your physical well-being
Welcome sparkling wine on arrival
extensive breakfast buffet with regional specialties, organic teas and egg dishes as desired
Afternoon cake at the hotel bar (3:30 p.m. to 5:00 p.m.)
"Food that makes you happy" - 4-course evening menu with 3 main courses to choose from or an evening buffet, as well as a salad bar and cheese board
Tea, revitalized water and dried fruit in the wellness area
homemade bread from the bread bath in the sauna village
RELAX IN THE WELLNESS LANDSCAPE
Sauna village with Finnish sauna, Brechelbad, stone bath, bread bath, aroma grotto, sanarium, Kraxenöfen and relaxation area
Panoramic indoor pool with counter swimming system and massage jet
Plenty of space to relax in our ruhe.alm on 2 floors with a fireplace and water beds (from 16 years)
Kuschel.alm lawn with cozy double beds exclusively for adults
Rental bath bag with bathrobe and bath towel in the room
OTHER INCLUDED SERVICES
free WiFi in all rooms and public areas (except wellness)
Parking spaces directly at the hotel (partially covered)
Disponibilitate Hotel Waidringer Hof
la cerere
disponibil
închis
Preţuri
| Iarna | Sezon principal | Vor-/Nebensaison |
| --- | --- | --- |
| Înnoptare/cazare | € 122 până la € 157 | € 100 până la € 132 |
| cu mic dejun | € 132 până la € 167 | € 110 până la € 142 |
| Mini - pensiune | € 157 până la € 192 | € 135 până la € 167 |
| All-inclusive | - | - |
| Vară | Sezon principal | Vor-/Nebensaison |
| --- | --- | --- |
| Înnoptare/cazare | € 97 până la € 123 | € 84 până la € 99 |
| cu mic dejun | € 107 până la € 133 | € 94 până la € 109 |
| Mini - pensiune | € 132 până la € 158 | € 119 până la € 134 |
| All-inclusive | - | - |
The feel-good program begins with the 62 rooms and suites that delight different tastes: on the one hand, the new, straightforward designed rooms that shape urban flair into an alpine lifestyle. But the particularly spacious studios Glücks.feuch also convey comprehensive comfort thanks to their well-kept country house style and, with their fine Swiss pine furniture, ensure deep sleep and positive health effects.
Prices do not include local tax