Cazări
Hotel Weiler
- Obertilliach
Hotel Weiler
9942 Obertilliach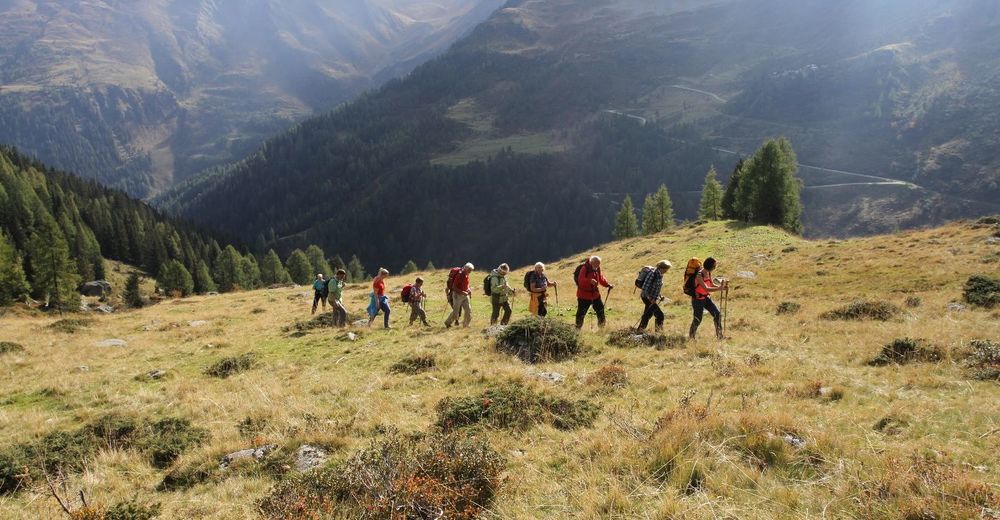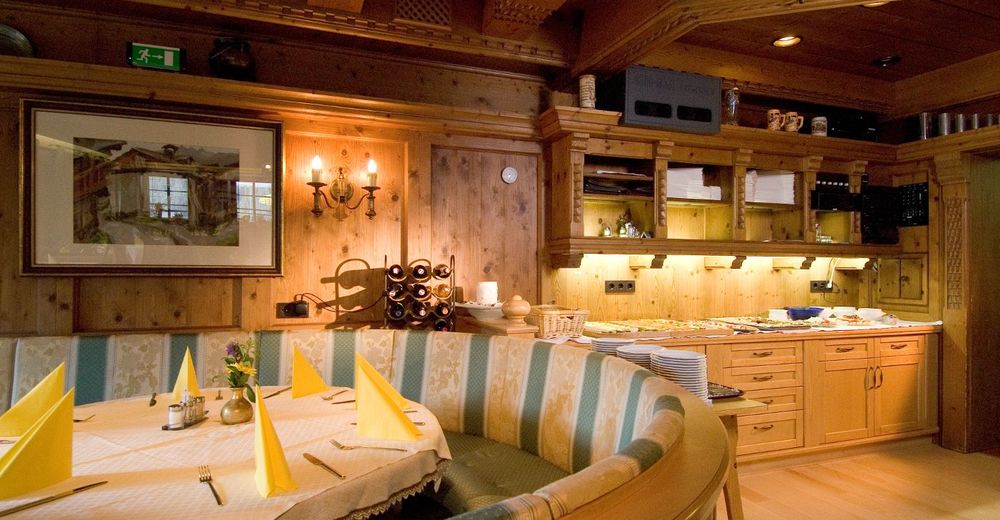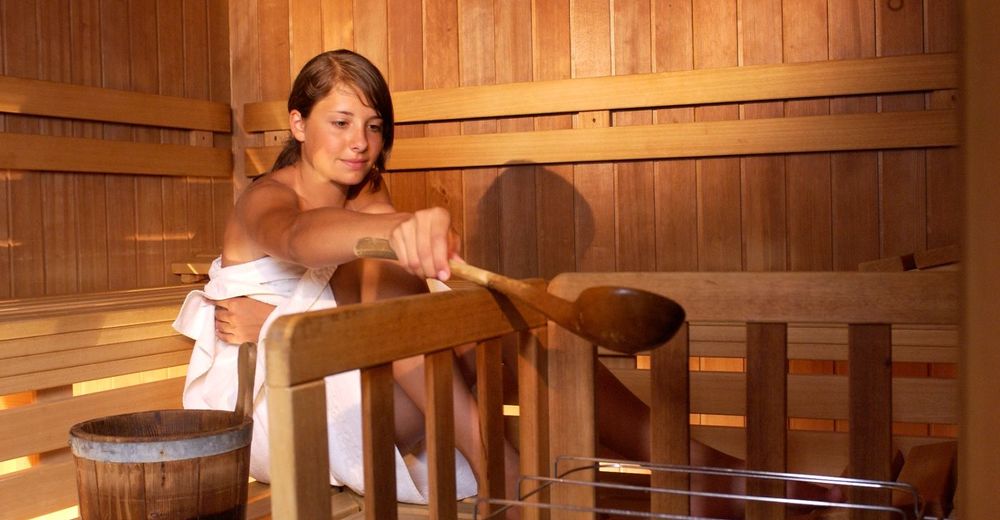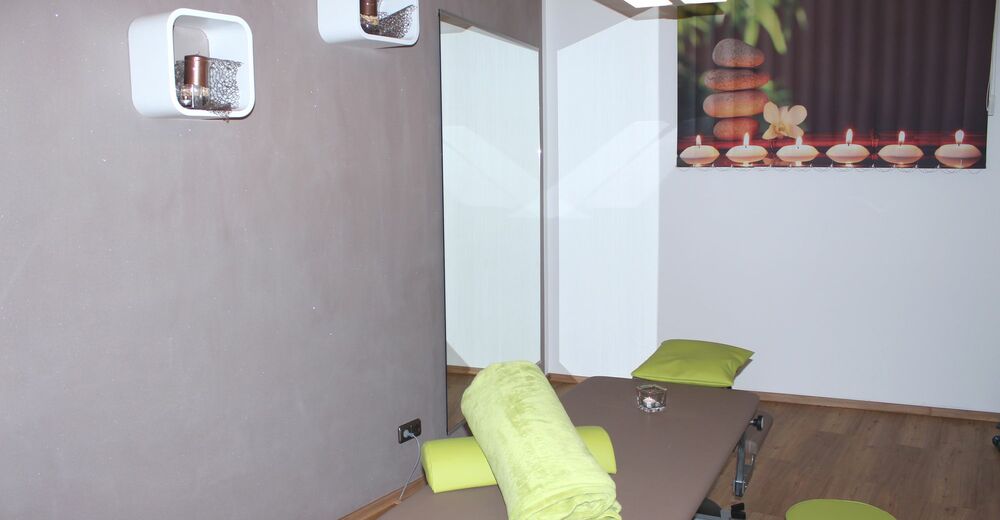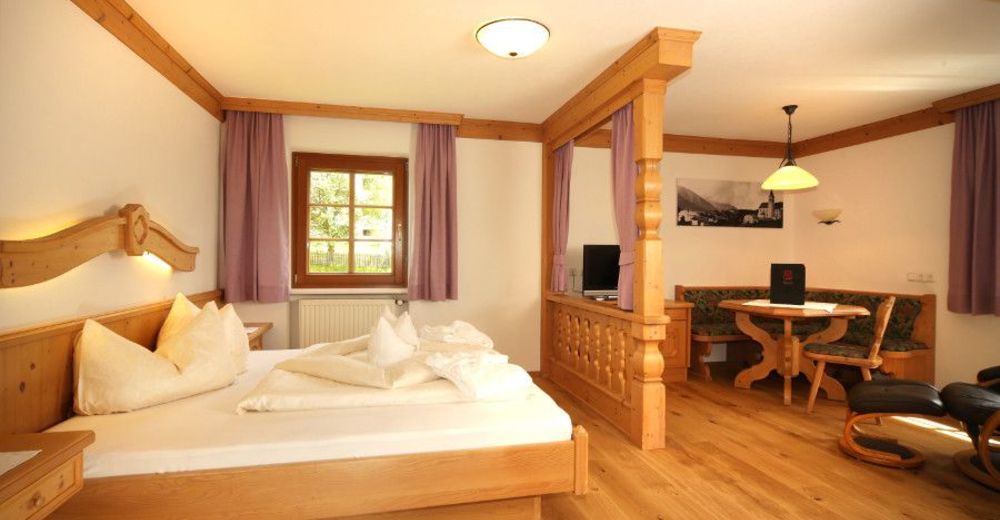 Welcome in Obertilliach in Obertilliach in the Hotel Weiler!
Our small family-friendly hotel is situated at the beginning of Obertilliach. The ideal location -perfect starting point for hikes, mountainbike tours,... the comfortable flair and the heartiness make the most beauOur traditional Hikinghotel Weiler is located at the very edge of the idyllic sunshine village of Obertilliach in East Tyrol at an altitude of 1.450 m and in the very heart of a marvellous mountain landscape, surrounded by the Carnic Alps in the south and the Lienz Dolomites in the north. The convenient location of the hotel – right above the 60 km long "Grenzland" cross-country ski trail and directly below the slopes of the Golzentipp skiing area – allows for a comfortable and stress-free holiday!
Our rooms and suites, lovingly furnished with wood, invite you to stay and feel on top of the world.
Our alpine wellness area provides the perfect location for you to relax and let your spirits flow. Optionally, you can book massages geared to your very personal needs.
Our kitchen team, led by head cook Othmar, provides you with culinary surprises including traditional Austrian dishes as well as Tyrolean delicacies, prepared with fresh and regional products.
Your stay at our hotel in Obertilliach is the perfect opportunity to recharge your batteries by either relaxing or getting active, or both. The hotel's fantastic location allows for everything you dream of during a holiday in the mountains.
In summer, the variety of possibilities of how to spend your holiday is just as wide and capable of enriching your memory with wonderful pictures and experiences:
Hiking through the idyllic landscape to reach spots with marvellous views and beautiful lakes mirroring the beauty of the mountains, while breathing in the fresh and pure mountain air and the smell of flower meadows.
Kneipping in the crystal-clear water of the rivulets
Climbing on the spectacular rock formations of the Lienz Dolomites
Mountain biking to sublime summits
Marvelling at animals and their natural way of life on the meadows
In today's modern world, such quiet and natural experiences have become of invaluable importance as they make your spirits flow and help you find inner peace and satisfaction.tiful days of the year to a special adventure.
Preţuri
Single room
(Einzelzimmer)
pro Person / pro Nacht
Aufenthaltsdauer
:
bei weniger als 4 Nächten
Room "Zirbe" 17-20 m²
(Doppelzimmer)
pro Person / pro Nacht
Aufenthaltsdauer
:
bei weniger als 4 Nächten
Room "Fichte" ca. 25 m²
(Doppelzimmer)
pro Person / pro Nacht
Aufenthaltsdauer
:
bei weniger als 4 Nächten
Room "Fichte" or "Esche" ca. 27-30 m²
(Doppelzimmer)
pro Person / pro Nacht
Aufenthaltsdauer
:
bei weniger als 4 Nächten
Old wood suite approx. 30-40 m²
(Suite)
pro Person / pro Nacht
Aufenthaltsdauer
:
bei weniger als 4 Nächten
Room "Lärche" ca. 30-40 m² with terrace or balcony
(Doppelzimmer)
pro Person / pro Nacht
Aufenthaltsdauer
:
bei weniger als 4 Nächten
Single room
(Einzelzimmer)
pro Person / pro Nacht
Aufenthaltsdauer
:
bei weniger als 4 Nächten
Room "Zirbe" 17-20 m²
(Doppelzimmer)
pro Person / pro Nacht
Aufenthaltsdauer
:
bei weniger als 4 Nächten
Room "Fichte" ca. 25 m²
(Doppelzimmer)
pro Person / pro Nacht
Aufenthaltsdauer
:
bei weniger als 4 Nächten
Room "Fichte" or "Esche" ca. 27-30 m²
(Doppelzimmer)
pro Person / pro Nacht
Aufenthaltsdauer
:
bei weniger als 4 Nächten
Old wood suite approx. 30-40 m²
(Suite)
pro Person / pro Nacht
Aufenthaltsdauer
:
bei weniger als 4 Nächten
Room "Lärche" ca. 30-40 m² with terrace or balcony
(Doppelzimmer)
pro Person / pro Nacht
Aufenthaltsdauer
:
bei weniger als 4 Nächten
Sommer Nebensaison
29.05.2021 - 16.07.2021
11.09.2021 - 03.10.2021
Single room
(Einzelzimmer)
pro Person / pro Nacht
Aufenthaltsdauer
:
bei weniger als 4 Nächten
Room "Zirbe" 17-20 m²
(Doppelzimmer)
pro Person / pro Nacht
Aufenthaltsdauer
:
bei weniger als 4 Nächten
Room "Fichte" ca. 25 m²
(Doppelzimmer)
pro Person / pro Nacht
Aufenthaltsdauer
:
bei weniger als 4 Nächten
Room "Fichte" or "Esche" ca. 27-30 m²
(Doppelzimmer)
pro Person / pro Nacht
Aufenthaltsdauer
:
bei weniger als 4 Nächten
Old wood suite approx. 30-40 m²
(Suite)
pro Person / pro Nacht
Aufenthaltsdauer
:
bei weniger als 4 Nächten
Room "Lärche" ca. 30-40 m² with terrace or balcony
(Doppelzimmer)
pro Person / pro Nacht
Aufenthaltsdauer
:
bei weniger als 4 Nächten
Single room
(Einzelzimmer)
pro Person / pro Nacht
Aufenthaltsdauer
:
bei weniger als 4 Nächten
Room "Zirbe" 17-20 m²
(Doppelzimmer)
pro Person / pro Nacht
Aufenthaltsdauer
:
bei weniger als 4 Nächten
Room "Fichte" ca. 25 m²
(Doppelzimmer)
pro Person / pro Nacht
Aufenthaltsdauer
:
bei weniger als 4 Nächten
Room "Fichte" or "Esche" ca. 27-30 m²
(Doppelzimmer)
pro Person / pro Nacht
Aufenthaltsdauer
:
bei weniger als 4 Nächten
Old wood suite approx. 30-40 m²
(Suite)
pro Person / pro Nacht
Aufenthaltsdauer
:
bei weniger als 4 Nächten
Room "Lärche" ca. 30-40 m² with terrace or balcony
(Doppelzimmer)
pro Person / pro Nacht
Aufenthaltsdauer
:
bei weniger als 4 Nächten
Preis auf Anfrage außerhalb der Saisonzeiten
Modalităţi de plată
Barzahlung, Visa, Master, Maestro, EC
Observaţii:
Inclusive services of the "half-board plus" package (in summer):
generous breakfast buffet – East Tyrolean breakfast
house-made cake and strudel buffet in the afternoon (14:00-17:00)
4-course evening meal of your choice with a large vitamin-salad buffet
Use of the health and wellbeing facility Alpine Wellness with "WaldSPA, GardenSPA & Panoramafitness"
Use of the nature swimming pond
Bathrobe (minimum stay of 4 nights)
Free wireless LAN
Visitor's tax
free use of public transports in East Tyrol
Inclusive services of the pampering package (in winter):
generous breakfast buffet – East Tyrolean breakfast
"active snack" at lunch time (12:00-15:00)
house-made cake and strudel buffet in the afternoon (14:00-17:00)
4-course evening meal of your choice with a large vitamin-salad buffet
Use of the health and wellbeing facility Alpine Wellness with "WaldSPA, GardenSPA & Panoramafitness"
Bathrobe (minimum stay of 4 nights)
Free wireless LAN
Visitor's tax
free use of public transports in East Tyrol
Cameră/Apartamente
Modalităţi de plată

Barzahlung, Visa, Master, Maestro, EC