Schii fond
Engadin Scuol Zernez
Trasee Astăzi, 08:00
Derzeitiger Betrieb: închis
In addition to the "Loipa Dario Cologna ", which was dedicated as a training track in honour of the World Cup and Olympic champion of the same name - the 30.5 km long valley track between Scuol and Martina is a highlight for cross-country skiers and for 43 years now has been the basis for the traditional folk run "Passlung Martina-Scuol ".
Furthermore, the connection to the cross-country ski run of the Engadin Skimarathon awaits you in Giarsun, Lavin, Susch and Zernez as well as in Ardez, Ftan, Tarasp, Zernez and on the Motta Naluns round tracks with various challenges.
An overview of the trails in the Engadin Scuol Zernez holiday region can be found online at www.scuol-zernez.com/karte or on the winter map, which is available free of charge to all guest information.
The cross-country ski runs are located between 1040 - 2142 m above sea level. The longest continuous cross-country ski run is the Scuol-Martina with 31.5 km.
Information on snow and cross-country skiing trail conditions is available daily at www.scuol-zernez.com
---
Preţuri
Preise der Langlaufpässe
Schweizer Langlaufpass CHF 160.00
Regionalpass (Zernez-Martina) CHF 90.00
Wochenkarte (Unter-, Oberengadin) CHF 30.00
Tageskarte (Unter-, Oberengadin) CHF 10.00
Engadin Langlauf Saisonpass (Maloja-Zernez) nur in der GI Zernez CHF 80.00
Kinder bis 16 Jahre können die Loipen gratis benutzen.
---
Posibilităţi de întoarcere
In den einzelnen Dörfern sowie bei den Einstiegen.
---
Informaţii actuale loipe
Website

E-Mail

Telefon

+41 (0)81 861 88 00
Trasee Sumar
19
trasee clasice
98 km
Längste Loipe: Talloipe Scuol-Martina, 21 km (mit Zusatzschlaufen 30.5 km). Tipp: Anschluss an die Loipe des Engadin Skimarathons ab Giarsun, Lavin, Susch und Zernez.
13
Trasee de patinaj
97 km
Top-Tipp: Loipe Hochalpines Institut Ftan. Dies war mehrere Jahre die Trainingsloipe des Weltcup- und Olympiasiegers Dario Cologna.
1
Trasee montane
2.5 km
Höhen- und Panoramaloipe Motta Naluns auf 2142 m ü. M.
4
Loipe cu flux de lumină
10 km
Ardez 1,5 km, Ftan 2,0 km, Scuol 3,1 km, Zernez 3,3 km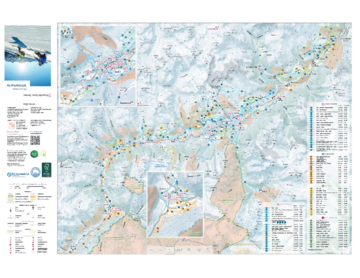 Diverse
Închiriere
In Ftan, Scuol und Zernez möglich
Schii fond Service
In Ftan, Scuol und Zernez möglich
Contact Birou turistic
Gäste-Information Scuol
Adresă

Stradun, CH-7550 Scuol

Telefon

+41 81 8618800

E-Mail

Homepage
Beliebteste Langlaufregionen