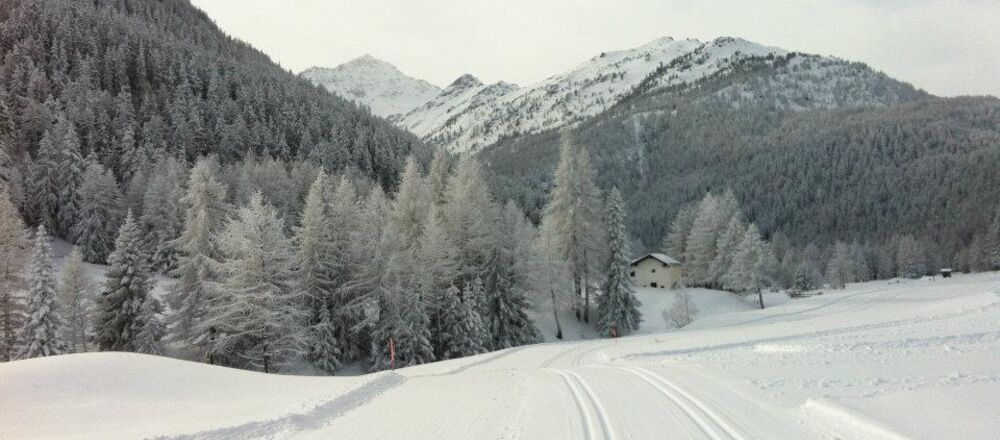 Find your personal pace in the enchanting mountains
Loving the mountains also involves being aware of its spirit and essence, appreciating and being surprised by simple things such as the colours of nature and the beauty of the mountains. There's nothing better than cross country skiing to develop a unique relationship with the mountains.
On La Thuile's Arly plain loop trails of varying length and difficulty wind their way across flat terrain and through woodland and unequalled scenery. These include a long and difficult 7.5km loop, 2 easier circuits measuring 5.5 and 3 km and an easy 1 km trail. Another spectacular itinerary is in the Arpy area, below Colle San Carlo.
Cross country skiing means training, hard work, fun and contemplation but, above all, it's remarkably good for your health as it involves all your different muscles, gets your blood circulating, oxygenates your body and generally pumps new energy into you!
Snowshows tracks
The winter season in La Thuile is not only ski.
There are many ways of getting around, while at the same time enjoying the snow, the sun, nature and panorama. It is for this reason that we have created some walks on the snow with different length that reach small villages, pinewoods and beautiful views.
To make it easier for you to note, items of particular interest along the walks, we have put up notice boards indicating the native plants and wildlife, the names of the surrounding mountains and valley and describing local weather conditions.
---
Informaţii actuale loipe
Website

E-Mail

Telefon

+39/0165 883049
trasee clasice
17 km
7,5 km black track 5,5 km red track 3 km red track 1 km blue track
Consorzio Operatori Turistici La Thuile
Adresă

Via M. Collomb, 36, I-11016 La Thuile/ Valle d'Aosta

Telefon

+39/0165-883049

FAX

+39/0165-885196

E-Mail

Homepage