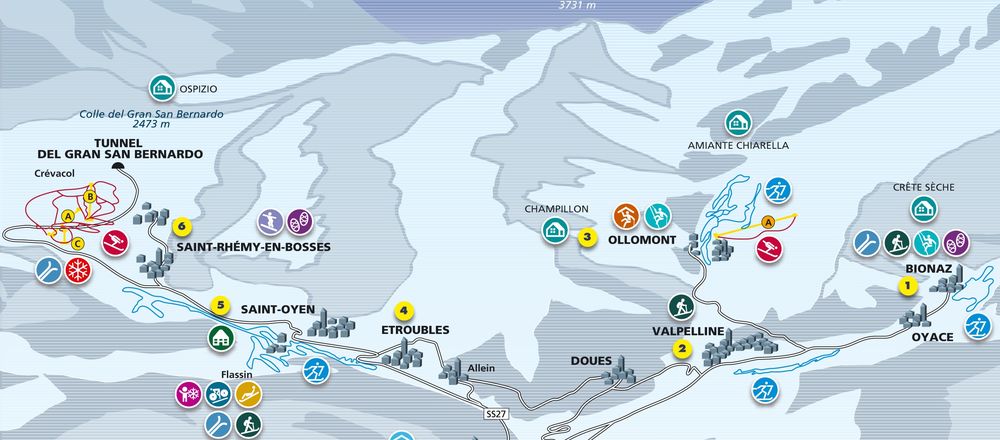 Trasee 01.12.2023, 10:56
Funcționare curentă: fără comunicare
Cross-country skiing at the Great St. Bernard
From the Middle Ages styled village Etroubles at an altitude of 1270 meters above sea level, an 18-km cross-country skiing trail goes through the valley, passing several charming villages such as Saint-Oyen, and finally reaching Saint-Rhémy-en-Bosses at 1521 meters, the last place in the Great St Bernard Pass - valley represents the border of Switzerland.
The remaining tracks are circular trails of varying difficulty, that lead through wooded terrain. They offer the skiers seductive sections.
Etroubles there is a illuminated night track of one kilometer in length. Thanks to the modern snow-making system, the ski season is guaranteed from December until spring.
In Flassin in Saint-Oyen, cross-country skiers will find the "Foyer de fond" with locker rooms, a ski waxing room, a vault room and a ski rental.
The region is not only easily accessible from Switzerland through the Great St. Bernard tunnel, but also from Aosta on the SS 27, which is directly accessible from the toll Aosta East through a highway tunnel, without entering the city.
---
Preţuri
Day ticket: € 5.00 Concessions: € 2.50
Children up to 8 years old: free
Children 9 to 13 years included: 2,50 €
Adults aged 65 and over: € 2.50
Season ticket: 35 €
2 automatic ticket machines at the Tennis Bar in (Etroubles) and the Foyer de Fond in Flassin (Saint-Oyen)
---
Informaţii actuale loipe
Website

E-Mail

Telefon

+39/0165-78559
Trasee Sumar
8
Trasee de patinaj
55 km
1
Trasee montane
18.3 km
Pista Alta Valle Gran San Bernardo
1
Loipe cu flux de lumină
1 km
Nachtloipe Etroubles
Diverse
Închiriere
"Foyer de fond" in Flassin in Saint-Oyen
Schii fond Service
"Foyer de fond" in Flassin in Saint-Oyen

Contact Birou turistic
Ufficio del turismo - Étroubles
Adresă

Strada Nazionale G.S. Bernardo, 13, I-11014 Étroubles

Telefon

+39 0165 78559

FAX

+39 0165 78568

E-Mail

Homepage